A brand audit is vital if you want to avoid throwing the baby out with the bath water!
Branding  +  Logo  +  Print  +  Brochure

Mainline Products are suppliers of cladding fasteners and accessories specialising in creating coated fasteners and profiles that are accurately colour matched to manufacturers' façade panels.
The company had recently been acquired by one of our other clients, VJ Technology, who asked the Brandspace team to do a brand audit for Mainline. Our first objective was to assess the current brand for things like distinctiveness, relevance, brand equity, recognition, consistency, etc.  The second part was to recommend ways in which we could align the Mainline brand more closely with VJT whilst also ensuring it still had its own very clear identity.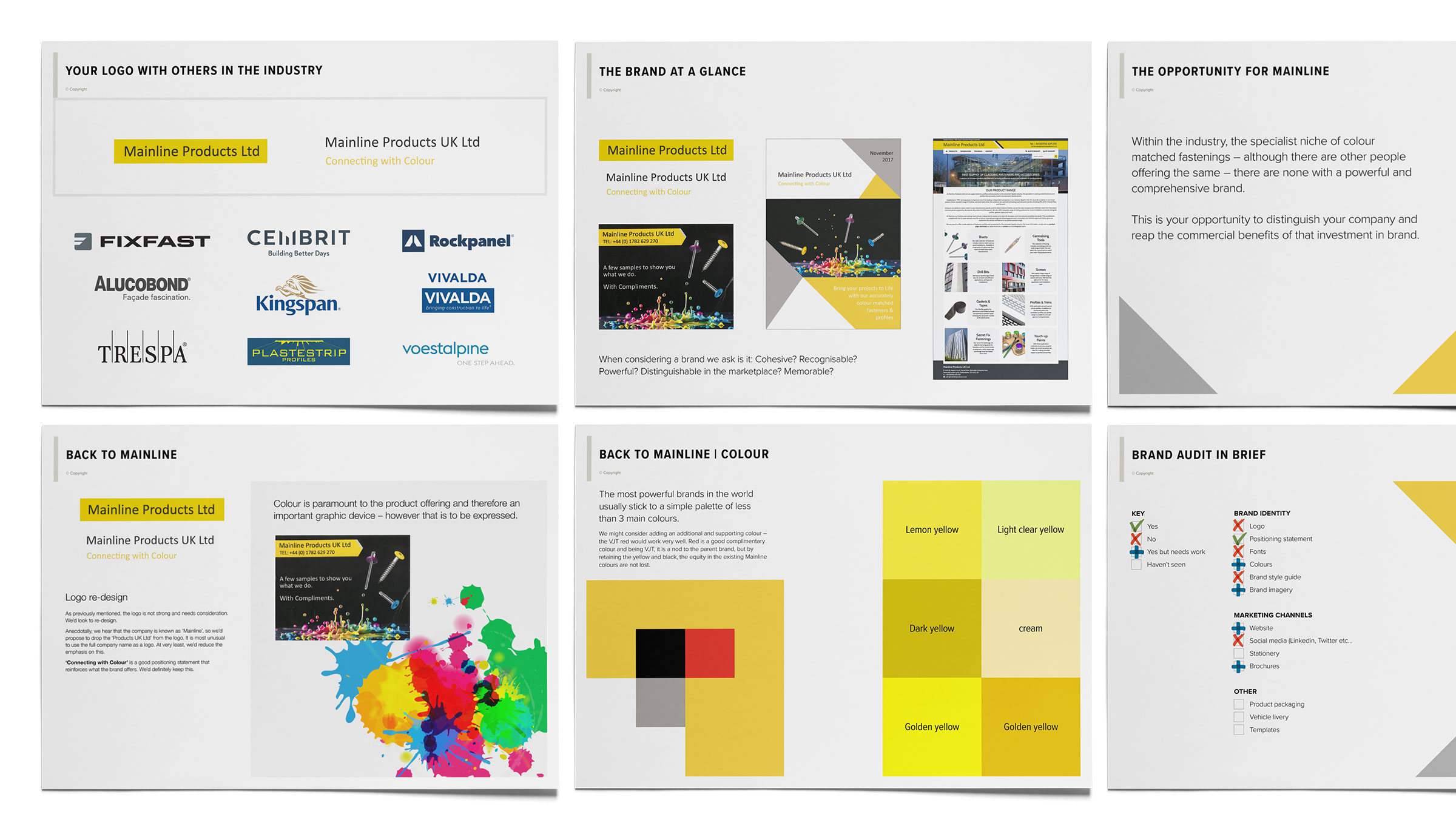 The brand audit revealed the essence of a brand which had the potential to be unique and memorable, but also relevant to the parent company.
With an existing brand equity and a recognised name, there were elements we recommended to retain in order to create a natural evolution of the brand.
Unlike the competitors, Mainline already had powerful brand colours of yellow and black to set them apart. This was an instant advantage that we were very keen to maintain, with the added benefit of being complimentary to the parent company's orange, red and black.
Secondly, Mainline had no identifiable logo from which to create brand recognition. They are specialists in colour matching products to any cladding colour – they are all about colour! So we designed a chameleon into the logo to create relevance and to make Mainline more memorable.
The third objective was to align it with VJT's brand. We introduced a strong use of diagonals throughout the brand as this was something also very prominent at VJT. It is a subtle link, but when both brands sit together one can see an obvious relationship.

Within this niche industry of colour matched fastenings – although others offered related products, there were none that stood out from the crowd. Mainline is well positioned to reap the commercial benefits of that investment in a brand audit.